Travel Agency in Manila Philippines
Vansol Travel & Tours
Airline Tickets | Hotel Accommodation | Tour Packages | Travel Insurance | Visa Assistance 
Your search for a travel agency in Manila is over. Here we are serving you with memorable travel experience and pleasant journeys at reasonable rates!
Book Now
Welcome to Vansol Travel & Tours!
It's our pleasure that you have chosen us as your travel agency in Manila Philippines.
We offer airline tickets and tour vacations packages to Australia & New Zealand, USA & Canada, Europe Tours, Holy Land Pilgrimage Tours, Cruise Tours, Tours to Africa, Tours to Russia, Asian Tours to China,   Korea , Japan , Thailand, Hong Kong , Singapore , Vietnam, Malaysia , Brunei , India , Taiwan , Tri City Tour Packages  to Cambodia and Siem Reap; and tours to major Philippine destinations such as Ilocos, Baguio City, Batanes, Bicol, Baler, Laguna, Puerto Galera, Tagaytay, Batangas, Manila, Cebu, Palawan, Boracay, Bohol, Camiguin, Davao, Panay Island, Dumaguete, Siargao, Negros Islands and Siquijor.
International Tours
Philippine Tours
Great trips start with great prices!
Serving travel memories & pleasant journeys!
Vansol Travel and Tours is a travel agency in Manila Philippines offering air tickets , hotel , rail, and tour reservations catered to every traveler's preferences. For inquiries, contact us. 
Below are some insights from our blog.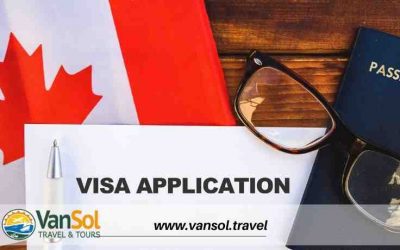 Do you need help on how to apply for Canada Tourist visa? Below are the steps for your easy reference. First , check if you need a visa to Canada based on your purpose of travel and nationality. Some people need a visa while some just need an Electronic Travel...
Why book with Vansol Travel & Tours?
Our tour destinations are preselected to match the discerning traveler's preferences, best fit for family, barkada, friends and student travel groups.
Save Time
Leave the vacation-planning and scorching travel suppliers for the best rates to the experts. Allot your precious time on saving up for that long wanted vacation.
Talk to a Real Person
Get your point straight up to an agent rather than an automated answering machine. We are happy to assist your travel requirements! Our knowledge to help plan your vacation is free!
Enjoy Expertise and Knowledge
We maintain database about destinations and resorts as well as attend trade shows and trainings. It's a great feeling when we  tell a client destination tips for their vacation plan.
Ready to Create Experiences?
Keep in touch with Vansol Travel
 Your Travel Agency in Manila Philippines 
Join our newsletter to get travel news,
destination updates and promo alerts.