China new stunning destinations Hainan , Haikou, Zhangjiajie Avatar Mountains, and Glass Bridge, are now ready for everyone to explore.
HAINAN
Hainan is the southernmost point island province of China known for its tropical climate, beach resorts and forested, mountainous interior. It is the sole tropical island in China, and is known around the world as "the world's most beautiful island". It has also other names, such as Coconut Island, Sunshine Island, Longevity Island, Health Island, and many more. Since it has a tropical climate, it is ready for visitors all-year round, offering summer holidays, winter swimming and vacationing as well. Hainan is making great strides towards the grand goal of building an international tourist island. Tourism wise, Hainan has over 60 beaches suitable for swimming. It boasts of scuba diving tours along the coast, 30 golf courses and clubs, modern transportation and communication facilities, modern airport facilities such as Haikou Meilan International Airport and Sanya Phoenix International Airport. There is expressway around the island, the Round Hainan High Speed Rail, and Guangdong-Haikou Railway. Shopping, entertainment, sightseeing, transportation and first-class lodging and accommodation facilities are also available. Through an integration of tourism resources across the province, the following eight major tour types are available: Tropical Beach Vacations, Folk Customs of Li and Miao People, Hot Spring and Health Tours, Tropical Plant and Animal Observation Tours, Scuba Diving & SightseeingTours, Geological Tours, Sports and Fitness Tours and Tropical River Rafting Tours, all of which will take tourists back to nature.
Further, the southern city of Sanya has many beaches that range from 22km-long Sanya Bay to crescent Yalong Bay and its luxury hotels. Outside Sanya, the hilly hiking trails of Yanoda Rainforest Cultural Tourism Zone pass over suspension bridges and by waterfalls. Be it a trip back to nature or an exposure to modern facilities, Hainan has that to offer. You may go to the beach or the mountains, or visit ancient relics or simply take a business trip to seek an opportunity for your enterprise. Hainan promises to make sure your trip will become a cherished life-long memory! For more information, check their tourism website.
ZHANGJIAJIE AVATAR MOUNTAINS
Zhangjiajie has became popular after the movie Avatar, there's that question "Do those mountains really exist or are they computer-generated?". Well those mountains exist. The Hallelujah Mountains in Avatar were inspired by Heavenly Pillar in Zhangjiajie National Forest Park. Zhangjiajie is located to the northwest of Hunan Province, over 1,000 kilometres from both Shanghai and Beijing. Zhangjiajie National Forest Park was the first national park in China, established in 1982. They couldn't have chosen a better site – Zhangjiajie is famous for its 3,000 vertical pillars, each hundreds of meters tall and covered in dense green foliage. These pillars were formed by erosion and draw in over 30 million tourists every year.
CHINA GLASS BRIDGE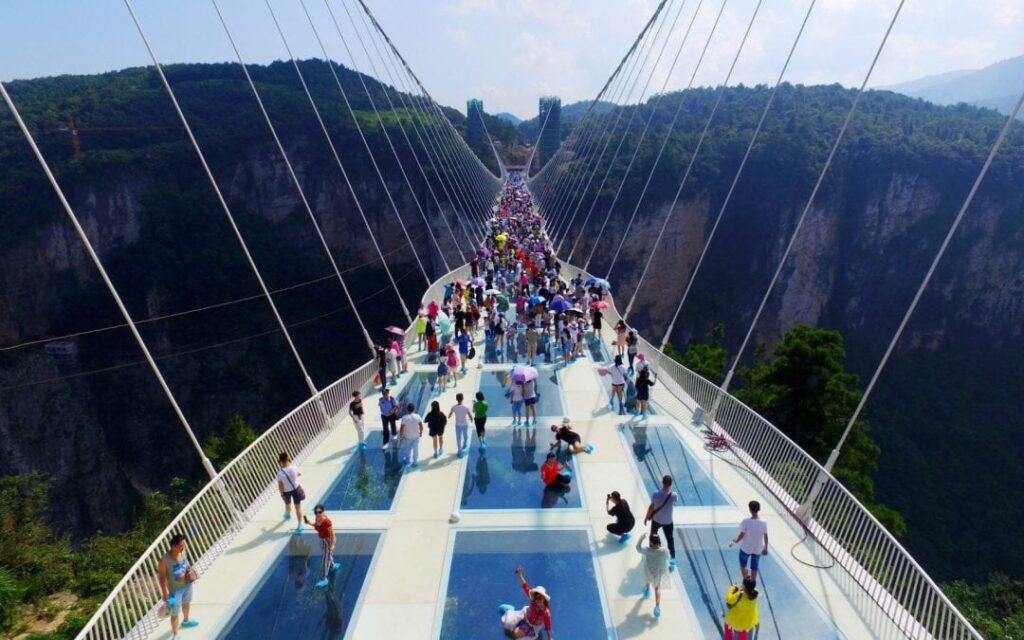 Zhangjiajie, China also offers an attraction called Glass Bridge (also called Zhangjiajie Grand Canyon Glass Bridge). Primarily built as an attraction for tourists, the bridge is glass-bottomed and is transparent measuring 430 metres in total length and 6 metres in breadth, and is suspended about 260 metres above the ground. It is the longest and tallest glass bottomed bridge in the world ; spanning the canyon between two mountain cliffs in Zhangjiajie National Forest Park in China's central Hunan province. The bridge, opened to the public on August 20, 2016, It is designed to carry up to 800 visitors at a time.
These China new stunning destinations add up to the already culturally-enriching Beijing and Shanghai tours and the family-fun Shanghai Disneyland Tour. If you want to visit China, contact us.